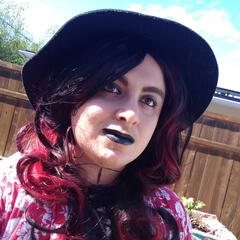 Rue Dickey
Rue (he/they) is a Welsh-Romani-Indigenous creator living in Oregon, US. He is also disabled and neurodivergent, and passionate about intersectional representation. Rue has a Bachelor of Science cum laude in Theatre Arts, and another Bachelor of Science cum laude in Microbiology. They live with their partners and baby boy ball python.
Voice Acting
Current Projects
Arcadia, CA - Elliot Baldwin

DNA404 - Calum

The Graveyard Tapes - Nyx Aarons and Additional Voices

Monocyte - Phineas Q. Progress and Additional Voices

Empty (Recrudescence) - Dr. Brent Pavel

Coyote's Bluff - Carl and Sam

More coming in 2021!
About
Rue Dickey
They/Them/Theirs or He/Him/His.
23.
Disabled. Neurodivergent.
Nonbinary transmasculine.
Welsh. Romani. Indigenous.

Rue works as an independent artist, writer, voice actor, and sensitivity consultant for Romani culture, Jewish diasphora culture, transness and nonbinary identity, disability, and neurodivergence. He writes tabletop RPGS, short stories, poems, and other miscellaneous projects. They also work as an audio editor for freelance projects!